At 'Clyde's' diner, a hero is more than a sandwich in Huntington coproduction
At a greasy spoon eatery where the boss is unbearably mean, creating the perfect sandwich might be the entrée that employees need to improve their lives. Down on their luck and released from prison, the small team has battled addiction, explosive anger, poverty, and more in Lynn Nottage's " Clyde's " at the Huntington Theatre Company mainstage through April 23. But this fresh start comes at a steep price.
The heartbeat of this production, coproduced with Berkeley Repertory Theatre and directed by Taylor Reynolds, comes from the kitchen where Montrellous, Letitia, Rafael, and Jason work. By making sandwiches — treated as high art —  they build comradeship, take risks on new recipes and share what ails them. It's easy to tell they're not making much money, but it's a job, and they're grateful to have it. Clyde, the strict shop owner (Broadway star April Nixon who is fun to watch despite her mostly joyless personality), reminds them of their plight at every turn.
Grim statistics show that many people released from prison cannot find employment years after getting out. Exploring what people do in liminal spaces like this is part of why Nottage, a two-time Pulitzer Prize winner, wrote the work, according to an interview. These four workers don't have many options and because of this, are made to endure Clyde's bullying. But if Jean-Michel Basquiat's quote, "It's not who you are that holds you back, it's who you believe you are not," is accurate, then Nixon's Clyde has already subscribed to the belief that her shop will never be more than it is, and therefore no one like her nor her staff members will amount to much.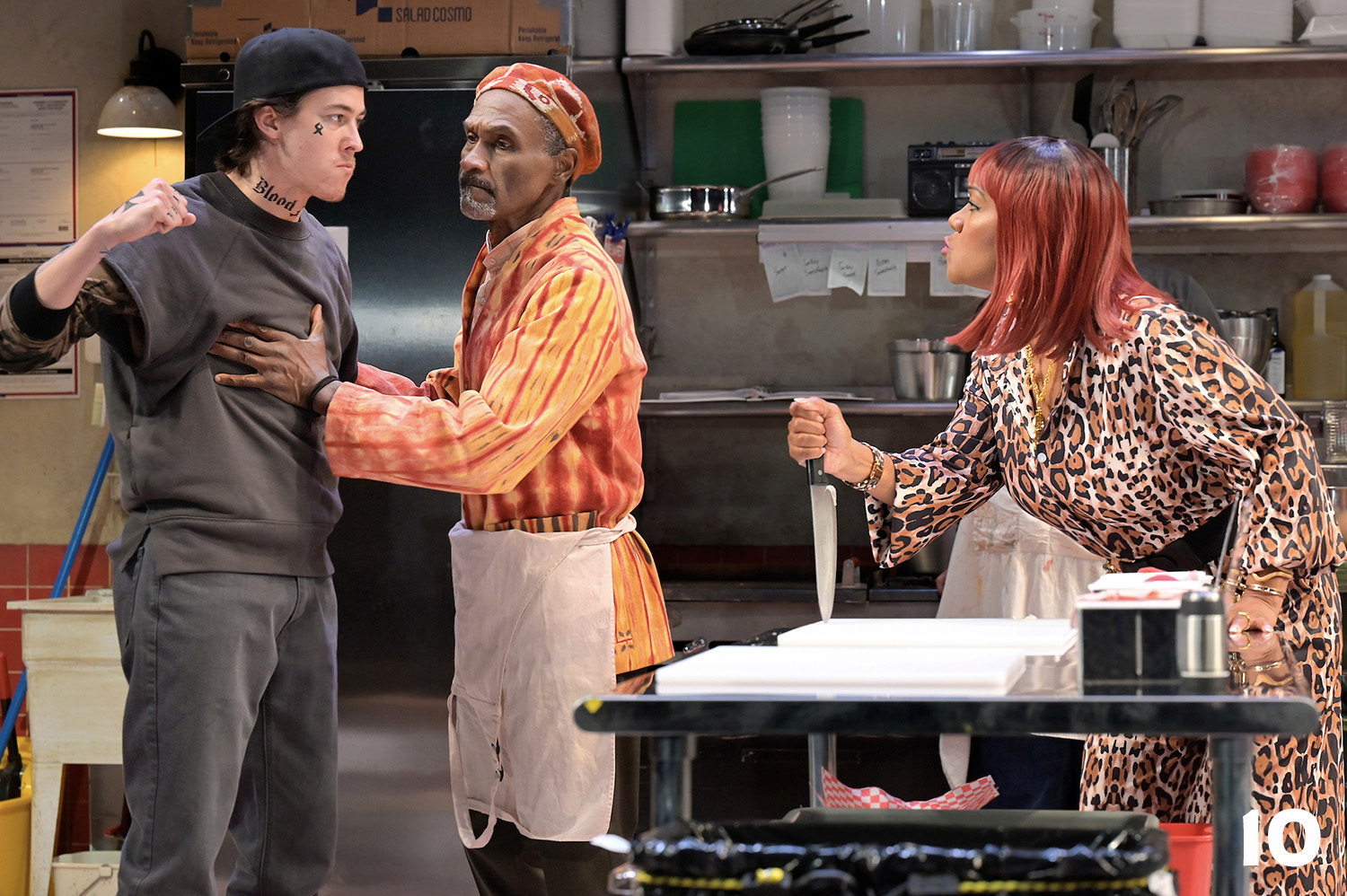 Clyde, who also has a dark past, runs the diner in survival mode forcing the staff to use whatever ingredients she finds to supply them. However, Montrellous — a wise, brave Harold Surratt — allows the enthusiastic if somewhat contentious team to dream. Montrellous is grounded in possibility, and despite what he's been through, he refuses to let Clyde stomp out aspiration. He's poetic, full of lines like the one Rafael quotes to his colleagues: "The first bite [of a sandwich, of course] should be an invitation," and presents as a caretaker and friend. He believes in himself and his friends fiercely and funnels that into food. Surratt and Nixon are great together. He's all peace and Zen, and she's comedic fire and rage.
Much spills out in this authentic kitchen — the work of scenic designer Wilson Chin — with stainless steel appliances, hung aprons, and HR-like notices on the wall, not to mention the grand sign and scenes lit up by Amith Chandrashaker. What landed the characters in this spot is examined, but the joy and laughter they create together are what's most memorable. There's a little crush heating up, a good-natured recipe rivalry, dancing and other nice touches .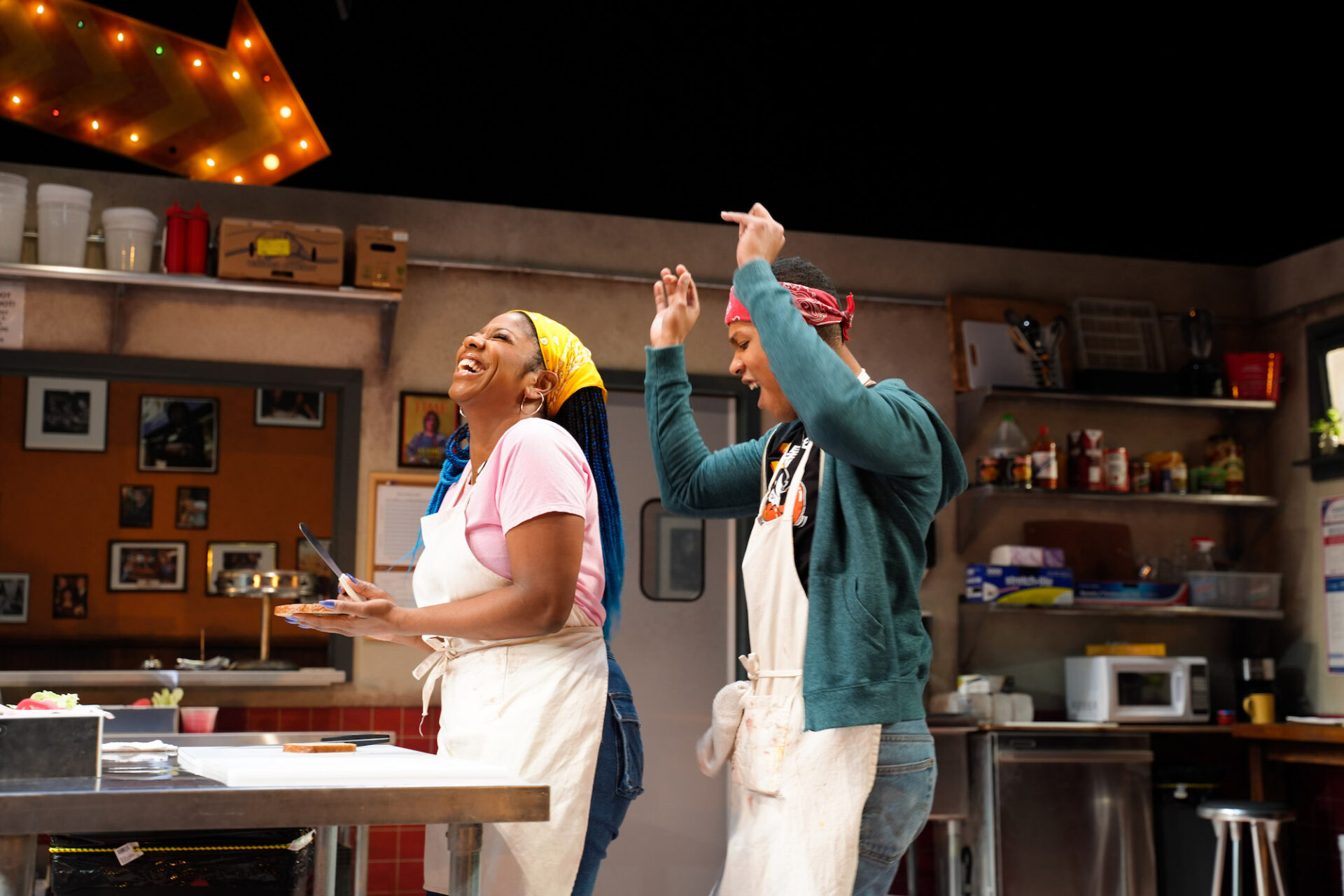 Louis Reyes McWilliams' Jason, who tatted up his face and arms with hateful messages in jail, has lots to overcome now that he's out. Letitia (Cyndii Johnson) tells him that walking around with hate on his face will weigh him down. And it does. Over time, he lets loose and lightens up. He also gets some of the funniest lines.
Using food as a lens to view socio-political topics isn't new. Last year Travis Alabanza's " Burgerz " came to Boston and detailed an assault where someone hurled a burger at them in 2016, and no one helped. The incident made the artist consider society's ability to empathize with trans people. Melinda Lopez's " Black Beans Project " delved into politics, sex, religion, and more while the characters made their mother's recipe for black beans, and Amir Nizar Zuabi's " This is Who I Am " dug into a father-son relationship, war and more as the two cooked together over Zoom.
All these artists used ordinary food items to look a little deeper at the things that shaped and continue to inform their existence.
Nottage unfortunately relies a bit too much on saccharine and sitcom touches in "Clyde's." Nevertheless, that doesn't detract from what smart use she makes of the characters' circumstances to raise awareness about the economic and dehumanizing effects of incarceration.
" Clyde's "  runs through April 23 at the Huntington Theatre Company.